2007 PEER Annual Meeting
January 19-20, Hotel Nikko, San Francisco, CA
Theme: "The Practice of Performance-Based Earthquake Engineering"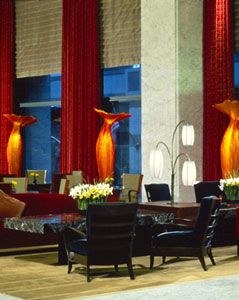 The PEER Annual Meeting will provide opportunities for PEER researchers and partners to engage in discussions on research accomplishments, important research needs, and strategies to address those needs.
Day 1 (Friday, January 19) will feature plenary sessions to examine the ways in which PEER's research has influenced earthquake engineering practice and seismic hazard mitigation. The day will conclude with a student poster session, reception and banquet for all participants.
Day 2 (Saturday, January 20) will feature small working groups, organized around thrust areas, along with select presentations by student and faculty researchers on current projects and opportunities.
Expected attendees:
- All individuals working on PEER-funded Core and Lifelines projects (Years 8 and/or 9): principal investigators, students and post-doctoral researchers, and anyone else supported by the project
- PEER business and industry partners
- Active PEER committee members (SAC, IAB, SLC)
- Other students or industry members interested in learning more about PEER's research programs
Venue:
The venue for the 2007 PEER Annual Meeting is the stylish Hotel Nikko San Francisco , located two blocks from Union Square and within easy walking distance of many shops, restaurants and city attractions. Hotel Nikko is easily accessible by BART, MUNI and other transportation. On-site parking is available.
Registration:
Please use our online Registration Form.
For more information:
Please direct any questions about this event to the PEER Outreach Office, or call (510) 642-3462.