Young Researcher Symposium at the PEER Annual Meeting is a learning experience for graduate students
One day prior to the 2009 PEER Annual Meeting in October, PEER hosted a Young Researcher Symposium with 25 students in attendance from PEER-affiliated universities, Center for Urban Earthquake Engineering (CUEE) in Japan and Tongji University in China. PEER students representing all of PEER's nine core institutions were nominated to attend.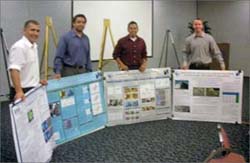 PEER's 2009 Undergraduate Summer Interns
present their posters at the NEES Young
Researcher Symposium in Buffalo, New YorkThe program consisted of a one-day symposium for the mixed group of international and local students on October 14, 2009. The morning started with oral presentations by the participating students to the audience of their fellow students at the engineering office of Simpson, Gumpertz and Heger in San Francisco. After lunch at the engineering office of Degenkolb Engineers with a lecture by Will Grogan, they traveled to Oakland to tour the Caltrans District 4 Headquarters Building that was retrofitted by Degenkolb with viscous dampers. Next they had a tour of Oakland's Cathedral of Christ the Light and its base-isolation system given by the designers Peter Lee and Lindsay Hu from Skidmore Owings and Merrill. The students ended the day with a final session of oral presentations then a poster session and social dinner at Schroeder's Restaurant in San Francisco.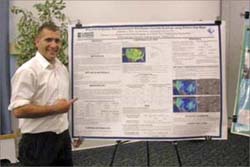 Matt Zahr with his 2009 Undergraduate
Summer Intern Project PosterAccording to one of the Japanese participants, who attended the symposium: "I would like to express my thanks to you and PEER for inviting us to the Young Researcher Session. Six Japanese participants have enjoyed and studied a lot through the Field trip as well as the presentation. I believe that this international experience gave us large energy to create more professional and matured results in field of earthquake engineering."
To see more details of the event, download the final program (PDF file - 2.9 MB).
This session was organized with the help of students from EERI's Student Leadership Council including Tracy Becker (UC Berkeley), Bryce Lloyd (San Jose State), Andreas Stavridis (UC San Diego) and John Tran (University of Nebraska-Lincoln). PEER thanks them for their outstanding efforts to make this a successful event.
A special thank you is also extended to the engineering firms that helped make this event a success:
Simpson, Gumpertz and Heger - http://www.sgh.com/
Degenkolb Engineers - http://degenkolb.com/
Skidmore Owings and Merrill - http://www.som.com
posted January 19, 2010