Student Poster Session at 2009 PEER Annual Meeting draws a crowd
Every year PEER-funded graduate students are sponsored to attend the entire PEER Annual Meeting as well as present their research during a unique poster session. As is tradition, the 2009 Annual Meeting poster session contained only student posters and was a highlight of the meeting. The success of this year's poster session was proven by the fact that over twenty-five PEER students and eleven international students displayed their work during a crowded two-hour poster reception with over 200 attendees.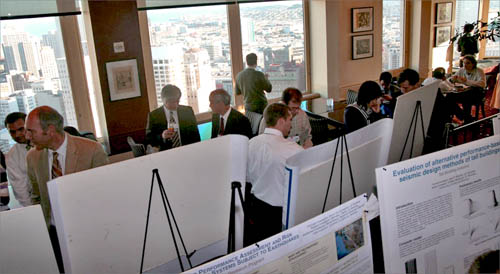 This session provides a unique opportunity for students to interact with faculty from many universities as well as fellow graduate student researchers from a broad range disciplines within earthquake engineering.
For a listing of all PEER Students who participated in the Poster Session at the 2009 PEER Annual Meeting and to see pdfs of their posters, visit the meeting website: http://peer.berkeley.edu/events/2009/icaese3/program.html.
Photos of the event are also available.
PEER would like to thank all of the students for their participation.
posted January 19, 2010