Technology Transfer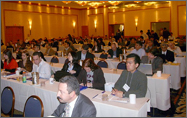 One of the strengths of PEER is its strong collaboration with members of private industry and government agencies. Technology transfer at PEER is carried out via various channels. Business and Industry Partners (BIP) members are invited and involved in various PEER workshops and meetings, and they also have the opportunity to suggest practical research projects.
PEER has also had many "user-driven" research projects jointly funded by the end-users and private industry, Federal government, State of California, and local agencies. In such projects, PEER researchers get feedback from the end-users, while the practicing engineers obtain first-hand information about the upcoming research findings.
The PEER report series, the Latest News listing on the website, and PEER News Alerts (PEER's email announcement service) are also widely used by both researchers and practitioners to gain inside information about the latest research results.
The PEER annual meeting also provides a venue for members of the public and PEER community to exchange views and ideas. PEER researchers, students, as well as practicing engineers attend the annual meetings.
If you are interested in knowing more about a specific research project, please contact us at: peer_center@berkeley.edu.
If you are interested in becoming a BIP member, please contact us at peer_bip@berkeley.edu.